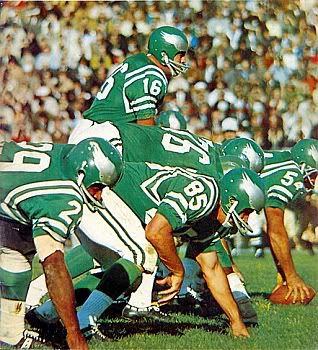 Here's entry #2 to explain the title of my journal, another all-time favorite element of a sports uniform, the silver wings the Philadelphia Eagles had on their helmets from the early 1950s through 1968. The accompanying photo shows the Eagles in my single favorite football uniform of all time, the design they wore from 1964 or '65 through '68.

The Eagles current uniforms aren't bad, but the dark blue-green color (called "midnight green") is a decided step down from the classic kelly green and the eagle wings look positively amateurish compared with these beautiful, realistic Eagle wings of the 1950s and '60s. The silver wings also add an element of variety to the uniform to make it a little more interesting (to me) than the similar uniforms of that era (and today) for the Colts and Jets.

I'll give you a few more images of this classic Eagles uniform...

First a shot of Eagles quarterback/punter King Hill, being guarded by Hall of Fame lineman Bob Brown, versus the Cleveland Browns with a beautiful Franklin Field backdrop. The Eagles used to play right on the campus of the University of Pennsylvania on really beautiful field (that lost a lot of its charm when it was astroturfed in 1969.





Now, a shot of a real favorite player of mine, the rugged running back Tom Woodeshick...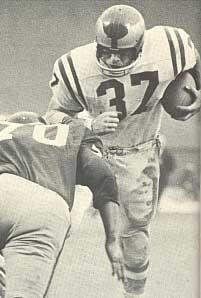 Looks like he's going one-on-one against the legendary Sam Huff, then of the Washington Redskins, earlier of the New York Giants.

And finally, the electrifying Timmy Brown...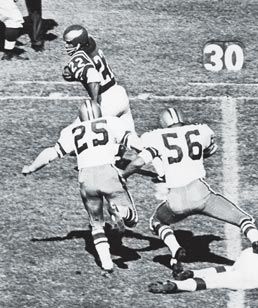 This shot really looks like it's taken from the Cotton Bowl in Dallas but could possibly be from the day in Philadelphia in 1966 that Timmy set or tied the all-time NFL record with two kick-return touchdowns in one game to help the Eagles upset the heavily favored Cowboys 24-23