With reports that the Seahawks and Panthers will have new uniforms next year and vague rumors about the Rams supposedly considering a return to their blue-and-white uniforms of the 1960s, I wanted to throw out a few ideas for each team, on the very slim chance that somehow my thoughts might enter the universe of considerations being made by those teams and their fans.

I'll post all three in this entry and go into some detail before submitting very abbreviated comments on these ideas to the "Uni Concepts" feature that runs on weekends at uniwatchblog.com.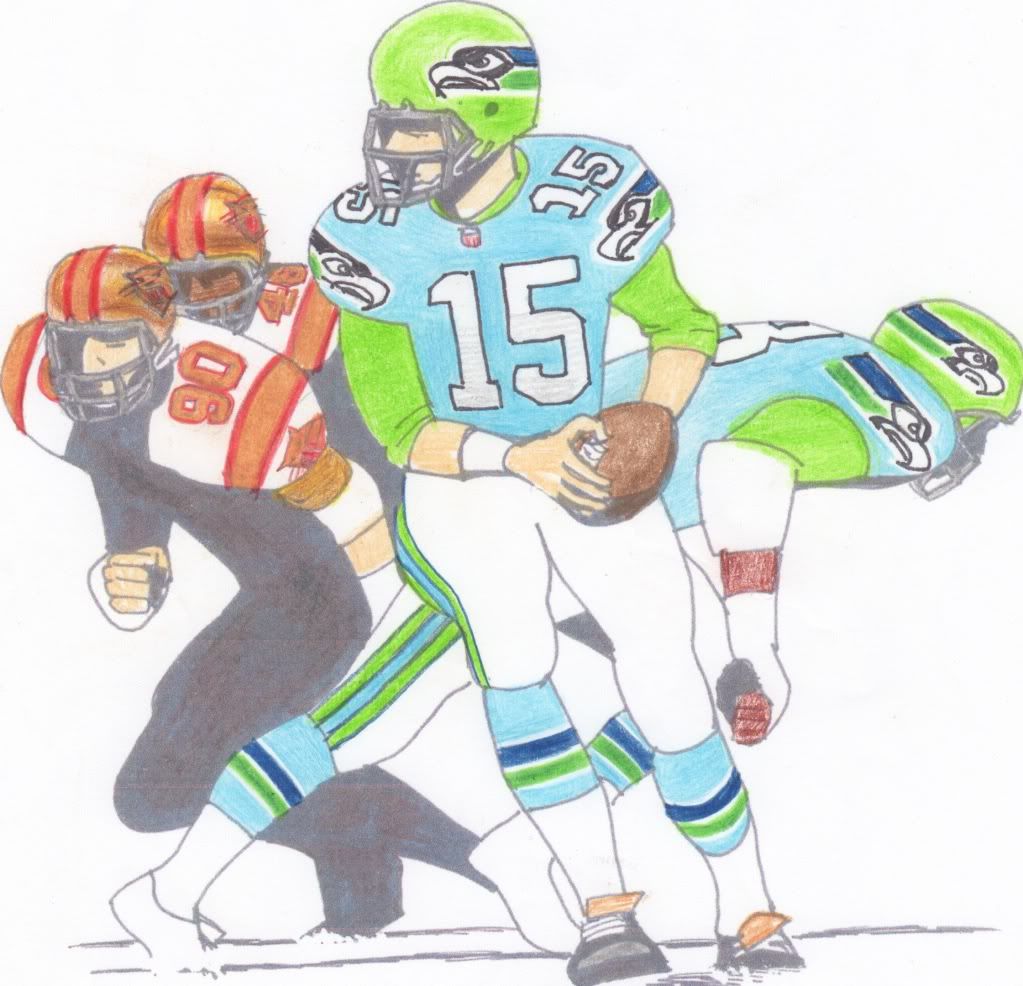 So up first alphabetically, the Panthers...


This is one of those instances where my skills with colored pencils failed to capture what I was envisioning, which was to give the Panthers a tan color with dark brown trim and then shiny old gold helmets, pants and numbers. I couldn't get much contrast between the tan and gold, but these illustrations give you some idea of what I was going for...



A NOTE ON THE OPPOSITION...

As you can see, I enjoy filling the background with some out-there idea for an opposing NFL team, starting here with a road uniform idea for Minnesota.

The Vikings are a team that really stump me. I loath their current uniforms and have never been crazy about any of their looks, though by far, I think their mid 1960s uniforms were best. So I took that basic design, lightened up the purple as much as I thought I could get away with (dark purple doesn't pop much in a league where most of the teams are black or dark blue) and switched the helmets to yellow (a very orange-y yellow). Trying to get a real shot of bright color by going to a very bright purple and an orange-yellow.

The Giants are one of the teams I'd just leave alone, other than possibly switching their gray pants to white, but those gray pants gave me an idea and I'm actually pretty impressed with the results. If I ever really work out this design completely and have to commit to a pants color, I'm leaning toward a light gray or silver or possibly white.

On to the Rams...

This is one uniform where I feel like I've honestly come up with the best and definitive look for the team -- taking the very well designed uniform of the mid-late 1960s (the one that is supposedly under consideration for a return) and layering onto that the classic 1950s color scheme, now that we're in an era where black-and-white TV is no longer an issue and a yellow-jerseyed team is once again viable. I roughly tried to reproduce the current numbering style and probably would go with blue socks if I were re-doing the artwork. I consciously went for a lighter blue, close to a royal blue, because dark blue is so over-used in the league right now.





THE OPPOSITION: I love the Redskins various color schemes over the years so much that I could probably do dozens of versions of their uniform and would be happy with any number of them. Here I tried to adapt a great jersey they had at some point back in the 1940s (with an emblem on the sleeve and in the dark jersey a gold number outlined in white). Here I mix burgundy with a metallic copper-ish gold.

Opposing the road Rams is a radical home design for the Cardinals, which fulfills a burning desire I have to see a team mimic the players that came with the generic Tudor Electric Football game of the early/mid 1960s (the one where you got one team that was all white and one team that was all an orange-y yellow with white numbers). Years ago I actually drempt a Steelers design along these lines but realize there's no way on Earth Pittsburgh would go to monochrome orange-yellow so I give a try here with the Cardinals. Not a traditional look for the oldest franchise in the league, but to me this is a thousand times better than their current mish-mash of a design.

And on to the Seahawks...

I did several designs earlier for the Uniwatch Seahawks Re-Design contest back in the summer (I generally went back to their 1980s design, but with Kelly green as the primary color and an alternate with neon green in place of the Kelly green on the jerseys and socks), but also had this idea, based on a color scheme I imagined many years ago for a fictitious college football team. The idea is to promote a touristy wonderful wilderness feel for Seattle by combing a pastel blue with a pastel green, a color scheme I see repeatedly when our bath towels are arranged a certain way. I think I missed on the socks and would substitute something that shows both the sky blue and light green, as does the pants stripe, if I were to do the artwork over.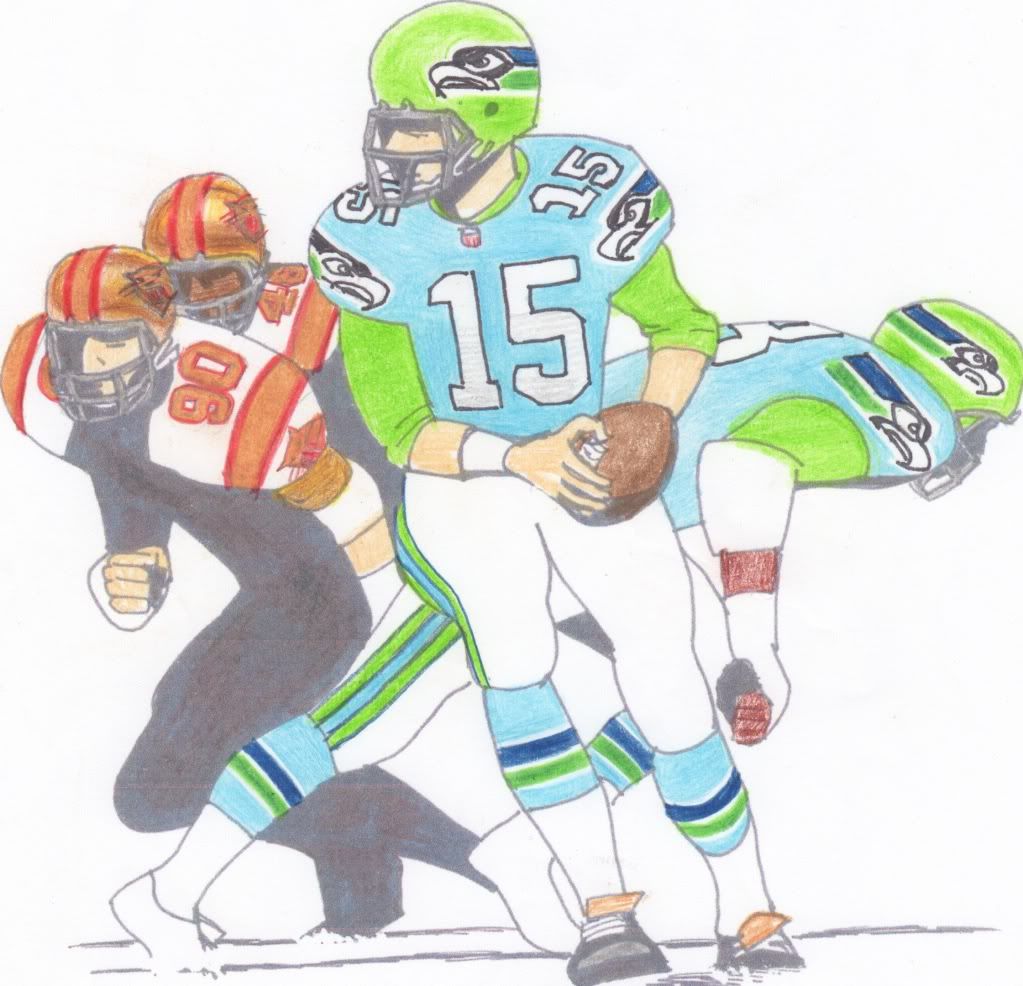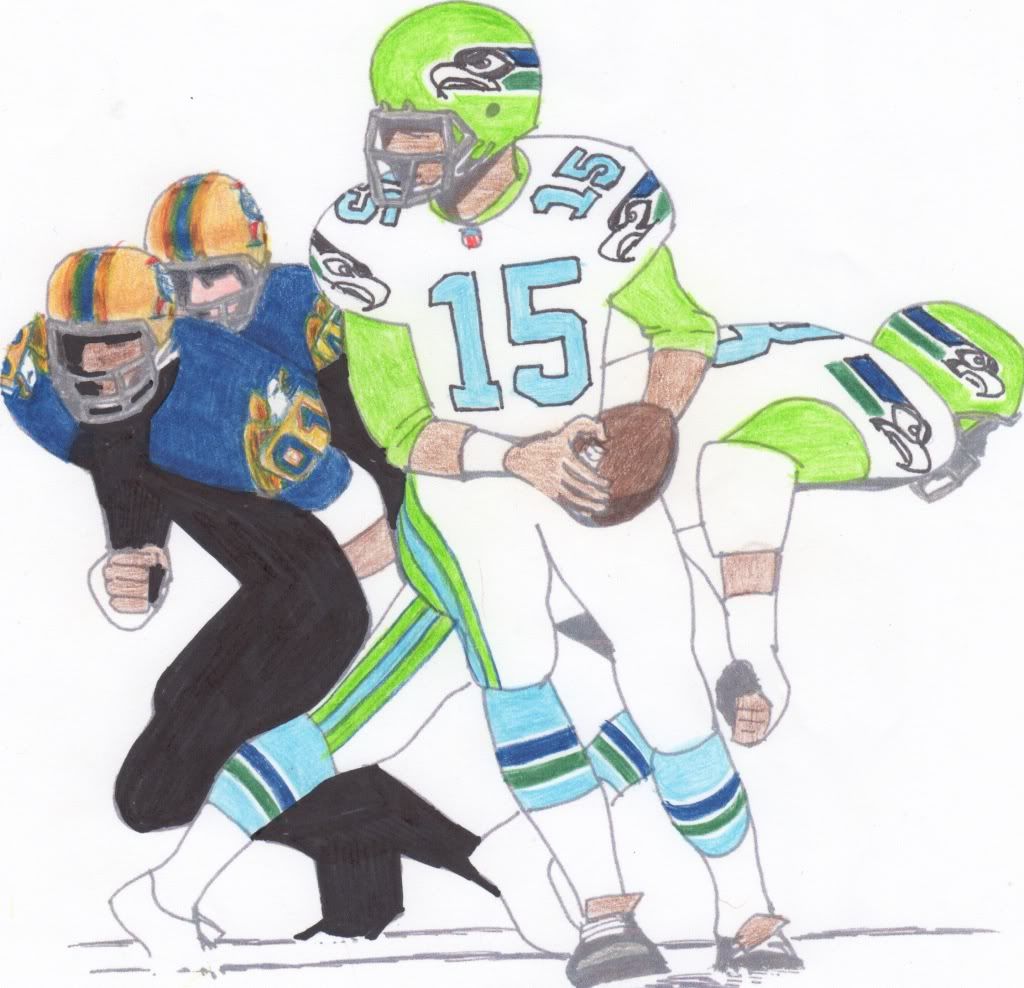 THE OPPOSITION: Facing the home Seahawks is my first stab at the tan-and-gold Panthers, and this one may have come out a little better than what I ended up trying for that team. Note I use dark red here instead of dark brown and that dark trim color gets much less use here than in the primary Panther design.

The road Seahawks are facing the Patriots, who in my opinion should never appear in anything other than their 1960s/70s Pat Patriot design (the 1968-72 iteration is probably my single favorite), but I figured the whole point to this project is to try some aggressive concepts, so I attempted to adapt the look of George Washington's Continental Army uniform, which is generally depicted as dark blue and buff, accented by gold buttons. For the shoulder numbers, I created a buff shield in front of a gold and white bald eagle. Interesting, but hard to get the effect of metallic gold and see how it would truly look trimming the blue and buff.